5 best free travel management software in 2023
Your employees will be able to plan, manage, and track their trips without the assistance of specialised agents thanks to travel management software.
Business travel is known to reduce employee productivity because it involves not only booking travel but also dealing with the distractions that come with it, such as processing approvals, managing payments, submitting expense reports, processing reimbursements, dealing with changes/cancellations in the event of disruptions, and so on. So, regardless of the size of your company, if your employees must travel for work, you need a solution to manage your travel and keep your employees productive.
Travel software for small business frequently account for a sizable portion of a company's total expenditure, so many companies are looking for the best corporate travel management software to help them manage their Travel management system and cut costs. So we've compiled a list of the top 5 best free travel management software solutions for booking business travel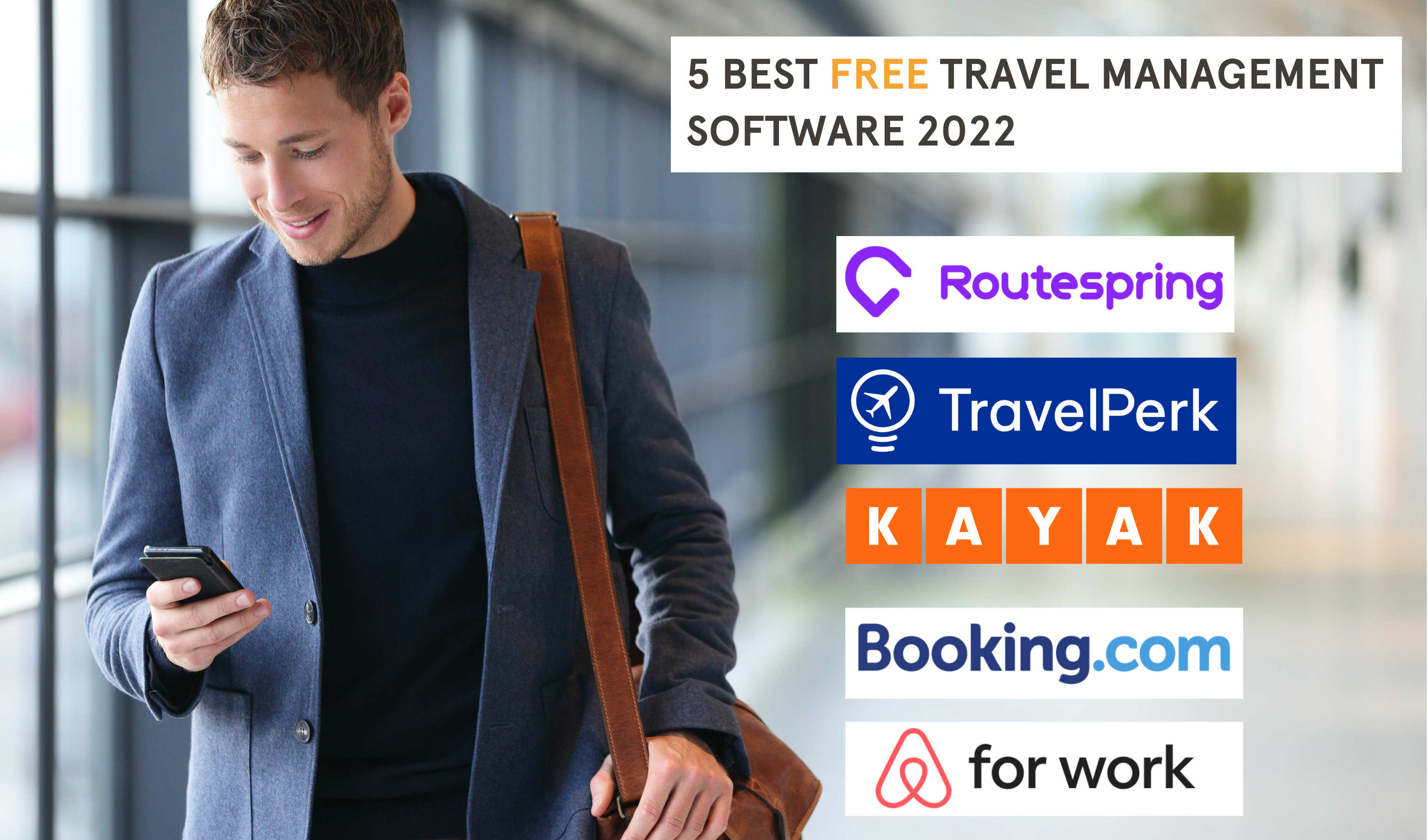 1. Routespring
Routespring is a top-rated free travel and payment management software, ranked as the #1 easiest to use software on G2. So, if you want to simplify and automate your administrative processes, Routespring is the best choice.
Centralize all travel payments: This is its core functionality, with which you can potentially eliminate the reimbursement process and avoid productivity loss in managing expenses and receipts.
Automate the use of airline credit: You no longer need to document, search for, or remember any available airline credit. Routespring will apply any available credit to the next flight automatically.
In-app approval process: You can avoid lengthy communication threads and wait times for approvals. If a trip is approved, it is automatically booked with no further action required.
Travel concierge: Gain access to travel experts to help you plan, coordinate, and execute any group events, conferences, or meetings.
Modernize payments with FluidPay: Give your employees a simple way to pay for what they need while providing visibility and control over business spending in one place for your finance teams.
The best part is that Routespring is absolutely free (including one-ring 24/7 customer support). Routespring is the only company on this list focusing solely on corporate travel management and business needs.
2. Booking.com
Booking.com is another free travel management software at a marketplace that operates online. Users can look for places to stay, flights, car rentals, and package deals. The search platform is available in 43 different languages, and the company offers a rewards program as well as a variety of discounted booking options. However, because the venue was designed with leisure travelers in mind, there are many features that it does not provide to businesses. Booking.com, for example, does not have a large inventory across various transportation verticals aside from accommodations. Furthermore, there is no VAT recovery function, carbon offsetting program, third-party integrations, or traveler tracking feature.
Pricing on Booking.com
Although Booking.com is free travel management software, third-party aggregators frequently charge customers additional fees.
3. Kayak for Business
Kayak for Business is a free travel management software and booking engine that works similarly to Kayak's consumer platform. It is a travel aggregator platform that searches and displays flight, hotel, and rental car options from hundreds of travel websites. Users can automatically generate travel itineraries that include flight information, boarding passes, and hotel and restaurant reservations. Furthermore, businesses can integrate their travel policies into Kayak for Business, so that when trips are booked, managers are simply shown whether they fall within the policy. However, because Kayak for Business is a search engine, the solution lacks a customer service function. Refunds, travel amendments, and cancellations are handled directly by the providers.
Pricing for Kayak for Business
Kayak for Business is free to use, but users have no access to customer service, all amendments, cancellations, and refunds must be processed through the original provider, and there is no option to include users' negotiated rates.
4. Travelperk
TravelPerk is a travel management company that uses a centralized, end-to-end digital platform to help users manage the entire business travel booking process. In addition to access to the world's largest travel inventory for flights and accommodations, users can take advantage of TravelPerk's VAT recovery solution, a carbon offsetting program, and FlexPerk, a cancellation policy that allows users to cancel business trip arrangements up to two hours before departure with an 80% guaranteed refund. Integrations with the most popular expense management tools should be available in a good travel management solution.
Pricing for TravelPerk
Businesses can gain free access to the TravelPerk platform and the following valuable features: Access to the travel inventory, including flights, hotels, trains, and automobiles. Customer service is available 24/7 and Reports on travel data.
5. Airbnb for Business
While it is not a complete trip management solution in and of itself, Airbnb for Work provides the features that businesses require to safely and easily allow their travellers to stay with Airbnb for business trips, such as streamlined payment and duty of care integrations. Remember that some travel management platforms (such as TravelPerk) allow you to book with Airbnb for Work.
Pricing for Airbnb for Business
Airbnb is completely free to use, with no card replacement fees, late fees, or interest charges.