Hey, what answers do you need?
Product Updates 9/06/2023
We're excited to announce that we'll be rolling out some new updates to give our customers even more booking, reporting, and NDC compatibility options this month.
Here's what to expect the next time you log into the platform:
1. Multiple simultaneous bookings
Users now have the ability to book up to 9 travelers at a time.
This applies to:
Flights: Up to 9 flight tickets for the same flight at once.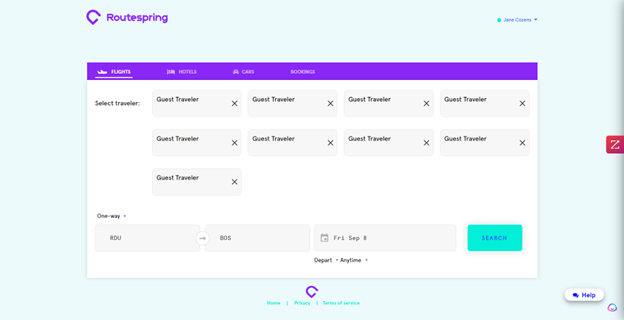 Hotel Reservations: Up to 9 rooms in the same hotel at once.

How does this benefit you?
For larger events such as conferences or company retreats, where multiple people from the same business are attending, they can be booked together (up to 9 people) instead of individually. This simplifies the process and makes it more efficient.
2. Electric car rentals are now available for booking
Users can now choose to add electric car bookings to their policy for car rentals.

How does this benefit you?
If your company is becoming more interested in sustainability and environmental practices, using electric vehicles (EVs) can help reduce the carbon footprint associated with business travel.
3. Established NDC connections with American Airlines (AA) and United Airlines (UA)
When booking flights with Routespring, customers can now easily access NDC content to take advantage of more options, better prices, and personalized services.
How does this benefit you?
With our NDC-compliant platform, you can now enjoy the best booking experience, accessing the most up-to-date data from the airline brand.
This includes:
Rich Content Display
Personalized Offers
Cost Savings

Real-Time Data
4. Enhanced reporting capabilities
How does this benefit you?
Our transaction report now includes extra columns to help clients analyze their travel expenses from various perspectives.
This includes:
Pre-tax fare
Taxes & fees
Total travel days
Approved by
Modified by
Rate type (whether it was the negotiated corporate rate or regular rate)
Separate columns for each TagSet for better filtering & analysis