Hey, what answers do you need?
Routespring's next-generation flight shopping experience
Dear Customer,
We are excited to announce the release of the next-generation flight shopping experience. This will significantly upgrade your flight booking experience and 
Why the update?
We want our booking experience to align with feedback from our frequent travelers and corporate travel managers:
Customers want high value, not just a cheap ticket. They'll pay more for amenities like extra legroom, bigger seats, and priority boarding.
When booking a carrier, customers crave a complete understanding of available features – and seek out booking platforms that offer it.
Diverse airfare choices are crucial in meeting and surpassing travelers' expectations.
Customers dislike navigating to compare flights. The booking experience becomes disjointed if they can't easily see multiple options.
Our goal is to give you a more engaging flight booking experience.
What's new?
Here's a quick rundown on what's changing on our flight booking display:
Get all the available fares in a flight. No more cabin class search!
Be informed about the fare attributes before making a purchase.
Ease of comparison between fares and between flights.

Clear labeling on flight options if the price is in or out of the travel policy.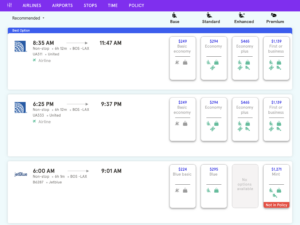 How are different fares grouped? 
All the fares are grouped into four categories to make it intuitive and easy to compare your flight and fare options. 

Base: Fares thatmay have restrictions such as no free seat choice, baggage, change policy, and more. Typically these are basic economy fares.
Standard: Fares with standard legroom with complimentary seat assignment. Typically these are economy fares.
Enhanced: Fares with more than standard legroom. Typically these are premium economy fares (or economy fares depending on the airline)
Premium: Fares with additional premium benefits. Typically these are business or first class fares (or premium economy fares depending on the airline)
Video tutorial 
Have questions?
Please feel free to write us at trip@routespring.com or text/call us at +1571-310-1294. We're always here to help you #GoFurther!